Las Venturas Playground
Welcome to the Las Venturas Playground website! Grown from a 100-man community to a network of services with over 119 thousand registered members, it's safe to say that Las Venturas Playground is one of the largest San Andreas: Multiplayer communities around on the internet. Registration is free and easy and gives you direct access to all our features.

Las Venturas Playground News & Updates
Good evening all,
I'd like to officially announce the economic changes to align LVP's economy with the upcoming housing system. 
In the live version of Las Venturas Playground very large dollar amounts are required to purchase very expensive items and properties; for example, it currently would cost $200,000 to use the /showmessage command, or $10,000,000 to change your player color as a VIP. We have reduced prices on nearly every command; for the examples above: /showmessage now costs $10,000 and VIP color changes are free. 
With the reduction of prices comes the reduction of earnings- when you spawn, you will now receive $10,000 rather than $175,000. Earnings from properties have been modified in a similar way, while maintaining a nearly identical time to double the money invested in the property. 
Spawn weapon prices have also been reduced to align with the rest of the new economy.
What does this all mean to you?

Your money is now much more powerful; your bank balance has been decreased to align with the new economy but the average cost of commands has been decreased by a larger factor than your bank has.

Your bank will show a balance no higher than $100,000,000 on next login. Your money has not been taken, it has simply been adjusted to work with the new pricing of the server. 

Bank limits will remain at $2,000,000,000 even though the maximum account value has been adjusted to $100,000,000; effectively giving you the ability to store 20x the current limit. 

Bounties have been adjusted at the same rate as bank accounts to align the values with the new economy. 

All 2664 players indebted to the server by borrowing from the LVP Main Bank by using the /borrow command have been forgiven.

tldr; We fixed server financial problems, forget about your real life problems, come to LVP, it's like Las Vegas but fake. 
Non-Economic updates included in this update include:
Adding anti-quit joke protection (Contributed by LVPYassine)
Remove the 50 hour requirement for /ignore
Allow live reloading of certain gamemode modules
On behalf of the Las Venturas Playground Management,
Joe
Quite recently we've
begun asking players
what sort of data they would like to know about their playing sessions. As a result of some really cool suggestions, today we're announcing the first use of our
big data pipeline
, a new piece of infrastructure we've been working on to create fancy graphs.
Detailed per-session fighting performance
Let's take a look at
[TR]Death$Star
's session
this morning
. He was online for an hour and 36 minutes, during which he killed 30 players, was killed 4 times himself and died of other reasons once. Most of his fighting occurred around the ship, but he clearly travelled around to find his victims too.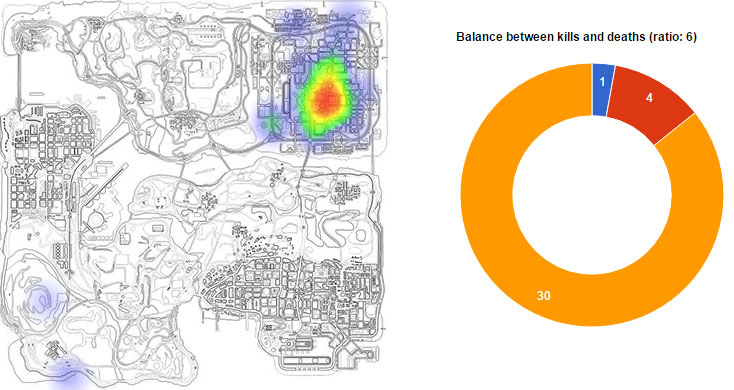 Looks pretty rad, doesn't it? There's more! His favourite weapon during this session was the Sawnoff Shotgun, with which he fired 465 times, 262 of which hit another player. That creates for an accuracy of 56%, slightly
below
 the average of the better fighters on the server, but I'm sure that's just a fluke, right? ;)

You can find these graphs
for every session played since Friday, August 5th
. Just go to your profile page on the website, and you'll find a new
recent sessions
 link in the left-hand menu. You can see the most recent sessions of all other players too!
Please continue sharing your suggestions for other cool statistics you'd like to see in
the topic in the Development section
. We plan to extend our gang system around this data, and create a ranking between gangs based on their in-game performance.
For now, however, please share graphs of your best performing sessions in this topic :).
Hi all,
A few months ago, we introduced a
Code of Conduct
as an experiment for all development related to Las Venturas Playground. This has proven to be very successful, so today we're announcing that the Code of Conduct will apply to the community at large.
When communicating with others on any of our services, which includes the Las Venturas Playground SA-MP server, the forums, IRC and GitHub, we expect you to act in accordance with our
Code of Conduct
. In short:

Be friendly and patient.
Be welcoming. It may take new players some time to find their place in the community, so help them get along and try to answer their questions if you can.
Be considerate. Not everyone has the same opinion or perspective on issues, so you will find yourself disagreeing with others. That is OK.
Be respectful. Even if you disagree with somebody, they're part of a rival gang or you simply don't like them, either treat them with respect or simply move on with your life.
Be careful in the words that you choose. Sometimes your opinion about certain matters can strike other people as harsh or offensive; try to prevent that.

We'll refer you to this topic if we think you should have phrased something in a different way. If that happens more often, your posts may end up being moderated so that we get a chance to read them before others— which really is a nuisance to all!
Thanks,
Russell
Happy Monday everyone!

Let's start this week off on a good note!

Recently we've had a player who has really stepped up, and shown a lot of interest in helping keep the Server the great place that it is.

Even tho I myself am kinda scared that is slowly taking over the Crew, but that aside let's welcome Diablo to the LVP Administration Team!


On behalf of the Las Venturas Playground Crew,

[BA]Overdosed
Hello guys!

I would like to announce that Shem (also my clan mate) has joined our Crew Team! I really liked how he worked with his temp. admin rights and I was waiting when he will get promoted which has happened now. He had been keeping good care of our server while other admins were busy so he is here with us helping in administrating our server.

Congratulations Shem!

On behalf of Las Venturas Playground Crew,
Robin
Howdy,
QUIPT is arranging Deatmatch events, with a variety of Gangs already having confirmed their participation!
More details, including questions or comments, can be found & posted here:
https://forum.sa-mp.nl/showthread.php?tid=33137
Thanks! :)
Hello guys!

I'm very proud to announce that our beloved player and my clan mate  NightFury (AKA Furry) has been promoted to a LVP Crew Member!

He's been temp'ed for more hours than some crew members have been in-game this year. I personally was getting sick of having to temp him when he clearly deserves the rights, so it only makes sense to welcome him to our administration team! He has helped some of players to spray tags and find properties.  I would also like to mention that he has achieved 6th place in the LVP 10 Event.

Congratulations NightFury


-On behalf of Las Venturas Playground Crew,
Robin
Hello all!
A new update has been released for our server, LVP 28.2, containing loads of fixes and small features:
-
37f5f85
: Allow players to set their skin using /my skin [Id]. A list of skin Ids can be found
here
.
-
0e6b7c3
: Fix random exploding SprayTag vehicles when spawned.
-
f93b56f
: Fix a race-bug where a race would end prematurely.
-
54f0af3
: Fix a ship-bug where players on the ship during killtime would have godmode.
-
52d45f0
: Place Peter's vehicle back at the usual spot.
-
0390a55
: Updated streamer plugin to
v2.8.1
.
- Disabling of /taxi and /kill in the VIP room.
- Various cleanups regarding the LVP10 anniversary code (/lvp10 --> /lvp).
- Various feature rewrites to JavaScript by
Xanland
.
- Countless commits by
Russell
concerning the JavaScript part of the gamemode (TextLabelManager, JS natives for Pawn, ObjectManager, ScopedEntities, MinigameManager).
- A great amount of commits by
George
concerning the LVP website.
On behalf of everyone at Las Venturas Playground,
cake
Server IP:
play.sa-mp.nl:7777
Twitter:
https://twitter.com/lvplayground
Facebook:
https://www.facebook.com/lvplayground/
Instructions on joining our server can be found
here
Hello!
I'm sure you all had a great weekend, celebrating LVP's 10th birthday and winning prizes! While the biggest prizes have already been won, there are still people we found deserved another award. These people contributed a great deal to Las Venturas Playground over the past 5 or more years and we decided to distinguish these people with an Appreciation Award!
On behalf of the
founders and co-owners of Las Venturas Playground
I am delighted to award the following people with the prestigious Appreciation Award because of their contributions in the past 5 years: 
Management members:
Bakura
estroe
Fireburn
Harry
Joe
Lithirm
Luce
Rien
slein
tBKwtWS
Administrators:
Currode
Cyrix404
Darkfire
DoctorG
Gibbs
Matrix
MrElmo
Nemesis
Overdosed
Peru

A lot of the above mentioned people came to visit especially for LVP's 10th birthday after years of absence from Las Venturas Playground! We hope they find the time to hang out from time to time in the future as well!
On behalf of the founders and co-owners of Las Venturas Playground,
MrBondt
More than 980 people joined the server last weekend to celebrate the tenth birthday of Las Venturas Playground. It was an absolute blast: 2,659 minigames were played, 9,628 people got killed and 2,623 people died of natural causes.
These numbers are astonishing to me, but they are absolutely trivial compared to all the activity I have seen in the past ten years. LVP has 118,827 registered players, 65 volunteers who help to run the server and 413 VIPs. 113 people spent more than a thousand hours on the server. Let that sink in for a little bit: a thousand hours. Incredible!
In the same period of time, 6,155 commits were made by 34 authors improving the gamemode, website, infrastructure and forums. Talking about the forums, almost half a million posts were contributed by all of you, a staggering number, and let's not forget about
the tree
planted in LVP's honour either.
More than five hundred donations were received since LVP started accepting them in 2007- the server was sponsored until that point. After some financial hardship at first, your donations have led the way for the community to be financially healthy, own its own infrastructure and give back to the volunteers and the community through gifts and competitions. Thank you so much.
I'm incredibly proud of what all of you have enabled Las Venturas Playground to become, and wish I could have maintained my activity as the years passed. It's impossible for me to express my gratitude- keep it up the fantastic job!
Finally, It's my privilege to share that
MrBondt
and
Russell
have joined
Sander
and
Badeend
as co-owners of the community. You're in the very capable hands of these fine gentlemen, so let's finish with some of their personal words on the past ten years.
Badeend
: Soon after Peter had started a SA-MP server Sander managed to drag me into all of this. I don't really remember how that happened, but I guess it did. It was still a Dutch server with mainly Dutch players from the Gathering of Tweakers community, but soon it started growing and going international. After a while Peter promoted me to administrator.
I have done many different things in those 10 years, from development of the gamemode to creating some logos, building 'Boteend' and tools to help keep an eye on the server and its crew. Later I became less active ingame, but have always been around on IRC. Lately I've been picking up the game again and having great fun ingame from time to time. And in the meantime trying to keep a global eye on LVP's daily activities, server, crew and developments.
Sander
: When I started to play I was one of the first group of daily players on the server ".Peter's server", later called "GoT Server" and finally we became known as Las Venturas Playground.
With the growing number of players, crew was needed to guide everything and everybody. Too bad for some of you, I was one of the lucky ones.
Not long after my promotion to admin I became management. Main task was general day to day management, keeping peace between crew and players, keeping the server running, restarting, etc.
When we started with donations for VIP status, I took the task of Donation Manager on me.
The last few years I'm not very active in-game or LVP-community-related, but I'm still active managing the server, services and our financials.
MrBondt
: I joined Las Venturas Playground soon after it changed its course from a Dutch server to an international SA-MP server. I started, like most of the crew, as a normal player. I really liked cruising around San Andreas while chatting with people. Later my attention shifted to IRC, where the Nuwani bots were intriguing me and I developed my own bots to interact with them and the players ingame. Eventually, I was promoted to mod (we still had them back then) and later administrator. I kept developing my bots which got me promoted to Management, where I took up the maintenance of the Nuwani bots. Later this expanded to the website and servers as well, giving me the official position of Technical Officer. Players and VIPs might not know me too well, as I do most of my work in the background. Exactly the way I like it ;)
Russell
: So far my contributions have focused on writing code for our gamemode and services, but since last weekend I'll be an advisor for the staff management and hope to broaden my involvement further. We've got great players, a great staff and a large community backed by good technology, and I'm humbled to have been invited to make it even better!
Thanks, and on to the next ten years!
Peter, founder of Las Venturas Playground
Badeend and Sander, founders and co-owners of Las Venturas Playground
MrBondt and Russell, co-owners of Las Venturas Playground