Las Venturas Playground
Welcome to the Las Venturas Playground website! Grown from a 100-man community to a network of services with over 120 thousand registered members, it's safe to say that Las Venturas Playground is one of the largest San Andreas: Multiplayer communities around on the internet. Registration is free and easy and gives you direct access to all our features.

Las Venturas Playground News & Updates
Las Venturas Playground Presents: HOUSES!
After significant testing of the housing system, we are proud to promulgate the long-awaited update that brings the possibility of owning a house to every player! 
A house is exactly what the name reflects: a location, somewhere in San Andreas, that you own and of which you are in control. You are able to decide how your house looks, who is allowed access, and even what vehicle to park out front! You can also spawn there, if you so choose!
Each player is able to own a single house, but we are looking into extending this to up to three houses for our
VIP members
. The price of your house will be influenced
by the location
, as well as
the interior you choose
. There are no houses for sale in the red zone, unfortunately, but that still leaves plenty of other places for your house to become your home away from home.
In the future, houses will become much more than just a house. They will be able to store your
money
and
weapons
, become the basis of a sophisticated
gang zone system
, and will also enable you to
customize your character
with hats and glasses. Obviously, this involves a lot of work, but you can be expecting us to deliver additional features in the upcoming weeks and months.
So fire up San Andreas: Multiplayer, connect to Las Venturas Playground, and ask one of the administrators to create a house in your favorite locale!
On behalf of the amazing work done by our wonderful developers,
Total Epic Failure
New features:

Feature-complete housing system (in final beta).
Las Venturas Playground now handles its own interior markers.
TEF's hidden property has been brought back to celebrate his return.
The /spm command has been added for Management members.
The /rampcar command has been added for Administrators (#262).

Improvements:

Sub-commands of /p and /my are now case insensitive (#290).
Delivering the Merchant vehicle will now yield much more money (#284).
The interior abuse messages for administrators have been removed (#293).

Bug fixes:

An important issue with the Merchant's vehicle collection has been fixed.
Sole exclamation marks won't be interpret as gang chat anymore.
Stealing a player's money from the revenge menu won't reduce your money (#292).
Chat within bomb shops will now be considered public (#288).

(
LVP v29.8
)
Be excited!
Howdy,
Since the beginning of our community, about 120,000 people have registered their account on Las Venturas Playground. This is an absolutely incredible number, and we're humble to be able to provide entertainment to such a large group of people.
However, such a large group of players has a downside: it's not unlikely that your nickname has already been chosen by somebody else. This could happen
with
cool
nicknames
, as well as
regular
first
names
, assigned to accounts that haven't been used in years.
When this happens, please feel free to open a topic in our 
Help Requests
forum stating your current nickname, as well as the nickname you'd like to claim. When your request meets the following requirements, an administrator will reassign the nickname to your account.

The account must have been idle for at least four years.
The account may not belong to a former member of our staff.
The account may not belong to a VIP player.

Please mind that administrators also may refuse your request if the account belongs to a well known figure in the community, even if they've been idle for a long time.
On behalf of the Las Venturas Playground crew and Management,
Xanland
Good evening all,
I'd like to officially announce the economic changes to align LVP's economy with the upcoming housing system. 
In the live version of Las Venturas Playground very large dollar amounts are required to purchase very expensive items and properties; for example, it currently would cost $200,000 to use the /showmessage command, or $10,000,000 to change your player color as a VIP. We have reduced prices on nearly every command; for the examples above: /showmessage now costs $10,000 and VIP color changes are free. 
With the reduction of prices comes the reduction of earnings- when you spawn, you will now receive $10,000 rather than $175,000. Earnings from properties have been modified in a similar way, while maintaining a nearly identical time to double the money invested in the property. 
Spawn weapon prices have also been reduced to align with the rest of the new economy.
What does this all mean to you?

Your money is now much more powerful; your bank balance has been decreased to align with the new economy but the average cost of commands has been decreased by a larger factor than your bank has.

Your bank will show a balance no higher than $100,000,000 on next login. Your money has not been taken, it has simply been adjusted to work with the new pricing of the server. 

Bank limits will remain at $2,000,000,000 even though the maximum account value has been adjusted to $100,000,000; effectively giving you the ability to store 20x the current limit. 

Bounties have been adjusted at the same rate as bank accounts to align the values with the new economy. 

All 2664 players indebted to the server by borrowing from the LVP Main Bank by using the /borrow command have been forgiven.

tldr; We fixed server financial problems, forget about your real life problems, come to LVP, it's like Las Vegas but fake. 
Non-Economic updates included in this update include:
Adding anti-quit joke protection (Contributed by LVPYassine)
Remove the 50 hour requirement for /ignore
Allow live reloading of certain gamemode modules
On behalf of the Las Venturas Playground Management,
Joe
Quite recently we've
begun asking players
what sort of data they would like to know about their playing sessions. As a result of some really cool suggestions, today we're announcing the first use of our
big data pipeline
, a new piece of infrastructure we've been working on to create fancy graphs.
Detailed per-session fighting performance
Let's take a look at
[TR]Death$Star
's session
this morning
. He was online for an hour and 36 minutes, during which he killed 30 players, was killed 4 times himself and died of other reasons once. Most of his fighting occurred around the ship, but he clearly travelled around to find his victims too.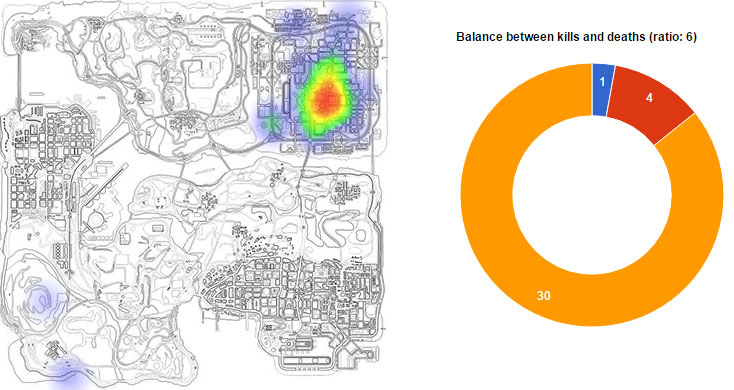 Looks pretty rad, doesn't it? There's more! His favourite weapon during this session was the Sawnoff Shotgun, with which he fired 465 times, 262 of which hit another player. That creates for an accuracy of 56%, slightly
below
 the average of the better fighters on the server, but I'm sure that's just a fluke, right? ;)

You can find these graphs
for every session played since Friday, August 5th
. Just go to your profile page on the website, and you'll find a new
recent sessions
 link in the left-hand menu. You can see the most recent sessions of all other players too!
Please continue sharing your suggestions for other cool statistics you'd like to see in
the topic in the Development section
. We plan to extend our gang system around this data, and create a ranking between gangs based on their in-game performance.
For now, however, please share graphs of your best performing sessions in this topic :).
Hi all,
A few months ago, we introduced a
Code of Conduct
as an experiment for all development related to Las Venturas Playground. This has proven to be very successful, so today we're announcing that the Code of Conduct will apply to the community at large.
When communicating with others on any of our services, which includes the Las Venturas Playground SA-MP server, the forums, IRC and GitHub, we expect you to act in accordance with our
Code of Conduct
. In short:

Be friendly and patient.
Be welcoming. It may take new players some time to find their place in the community, so help them get along and try to answer their questions if you can.
Be considerate. Not everyone has the same opinion or perspective on issues, so you will find yourself disagreeing with others. That is OK.
Be respectful. Even if you disagree with somebody, they're part of a rival gang or you simply don't like them, either treat them with respect or simply move on with your life.
Be careful in the words that you choose. Sometimes your opinion about certain matters can strike other people as harsh or offensive; try to prevent that.

We'll refer you to this topic if we think you should have phrased something in a different way. If that happens more often, your posts may end up being moderated so that we get a chance to read them before others— which really is a nuisance to all!
Thanks,
Russell
Happy Monday everyone!

Let's start this week off on a good note!

Recently we've had a player who has really stepped up, and shown a lot of interest in helping keep the Server the great place that it is.

Even tho I myself am kinda scared that is slowly taking over the Crew, but that aside let's welcome Diablo to the LVP Administration Team!


On behalf of the Las Venturas Playground Crew,

[BA]Overdosed
Hello guys!

I would like to announce that Shem (also my clan mate) has joined our Crew Team! I really liked how he worked with his temp. admin rights and I was waiting when he will get promoted which has happened now. He had been keeping good care of our server while other admins were busy so he is here with us helping in administrating our server.

Congratulations Shem!

On behalf of Las Venturas Playground Crew,
Robin
Howdy,
QUIPT is arranging Deatmatch events, with a variety of Gangs already having confirmed their participation!
More details, including questions or comments, can be found & posted here:
https://forum.sa-mp.nl/showthread.php?tid=33137
Thanks! :)
Hello guys!

I'm very proud to announce that our beloved player and my clan mate  NightFury (AKA Furry) has been promoted to a LVP Crew Member!

He's been temp'ed for more hours than some crew members have been in-game this year. I personally was getting sick of having to temp him when he clearly deserves the rights, so it only makes sense to welcome him to our administration team! He has helped some of players to spray tags and find properties.  I would also like to mention that he has achieved 6th place in the LVP 10 Event.

Congratulations NightFury


-On behalf of Las Venturas Playground Crew,
Robin