Want to play on Las Venturas Playground?
San Andreas: Multiplayer is a fan-created modification allowing you to play Grand Theft Auto: San Andreas online. This is an unofficial multiplayer and might be tricky to install, this page will help you if you want to play on Las Venturas Playground!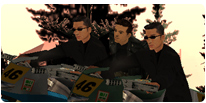 What do I need?
There are a few things you need if you would like to install SA-MP.
Please be sure that you meet all these requirements:
A computer with Microsoft Windows 2000, XP, Vista, 7, 8, 8.1 or 10.
A videocard which supports DirectX 9 (any PC from 2004 or later).
A full installation of Grand Theft Auto: San Andreas (version 1).
2
Launch the San Andreas: Multiplayer Server Browser and click on the orange "Add Server" button. Enter our server's
address, "play.sa-mp.nl:7777", in the text field and click on the "OK" button.
3
Select the "Las Venturas Playground" entry in your server list and click on the green "connect" button. Have fun!
Frequently Asked Questions and Errors
We have listed a number of frequently occurring errors and problems which you might experience when installing San Andreas: Multiplayer. If your question is not listed here, we welcome you to ask about it on our forum.
SA-MP requires you to use Grand Theft Auto: San Andreas Version 1 because of some changes Rockstar Games made in the second version of the game. You can download an easy patch that will downgrade GTA San Andreas to Version 1.
Internal errors mostly are caused by modifications. Be sure that you don't have installed any mods, different vehicles, patches or cheats prior to launching the game, as these will be identified as cheats by San Andreas: Multiplayer. Try to open the directory in which you installed the game and search for a file called "d3d9.dll". If it exists, delete it. If the problem still persists after that, re-install both Grand Theft Auto: San Andreas as SA-MP.
In order to play properly the version of your client and the version of our server have to match. We usually run the newest version of San Andreas: Multiplayer, so you probably have to upgrade your San Andreas: Multiplayer installation. Please follow the installation procedure listed as the first step on this page.
The characters you can use in your nickname are limited to a certain collection. Next to the alphabet and numbers, you can use: [], (), $, @, ., _ and =. Suitable nickname examples include, but are not limited to: Nickname, [CLAN]Nickname, Nick_Name and so on.
Las Venturas Playground requires you to follow certain rules when playing on our server. When these rules get broken, you may get banned by a Staff Member of LVP. Everyone has the right to appeal their ban or request more information as to why it got instated. You can do so on the Ban Zone on our forums.