News archive of December 2012
This page contains the news items which were submitted in December 2012. Clicking on the title of a news message will bring you to a separate page allowing you to comment, share or rate the message. Twitter messages will also be visible here.
After a long period of countless errors with our databases, caused by configuration errors after we migrated both the web and the database servers to new machines,  today I'm happy to tell you that we've fixed them and everything is running stable again!
In a nutshell, this means that profiles, player overviews and settings on
http://sa-mp.nl/
will be up-to-date again.
If you experience any issues, please let us know and we'll get them solved as soon as possible!
Thanks,
Russell
Howdy! As you probably noticed, we've just updated Las Venturas Playground to 5.4.0. The most significant change is a whole new rule list. We've removed a lot of unnecessary rules, and shrinked the list down to 6 points:

-  Do not cheat.
-  No swearing, flaming or racism.
-  Only English in the main chat. Avoid CAPS; use your common sense.
-  The Ship is a peace zone; don't harm players on it and don't run to it if you're fighting!
-  Do not abuse bugs or commands.
-  2-shots are not allowed.

...so you can think less about following rules and more about having fun, however you want!

We've also fixed quite some bugs, and rewritten a few features. There's still a lot more to come in the following days, so stay tuned!
The scripting language used by almost all San Andreas: Multiplayer servers is called Pawn. While there are many editors around, each with their own strengths and weaknesses, we had a hard time choosing a default for the Las Venturas Playground gamemode. Two years ago, a team of four Las Venturas Playground developers had a long discussion on how to go forward, from which we concluded that creating a new editor would be a good option.
Today, we're proud to present the
LVP Pawn Editor
. It's available as a free download for all of our members.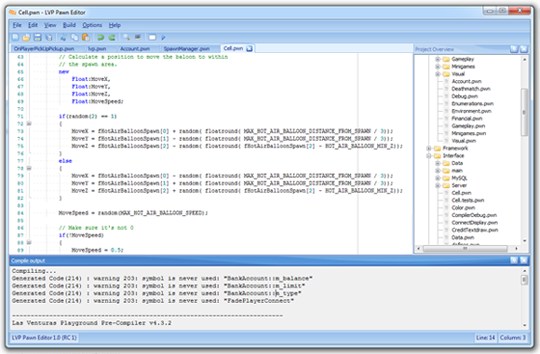 Features of the LVP Pawn Editor
* Tabbed interface supporting tens of simultaneously opened files.
* Supports for projects, including support for folders, new file templates and various settings.
* A powerful Find in Project feature: search through all your project's files in a single go.
* A highly customizable code editor: syntax highlighting, code collapsing and many formatting options.
* Tight integration with the San Andreas: Multiplayer server.
More screenshots, information, tutorials and documentation is available on our forums, which also contains the link allowing you to download the editor itself.
The LVP Pawn Editor Forums
Thanks!
Harry, Kase, oostcoast and Russell.