News archive of May 2016
This page contains the news items which were submitted in May 2016. Clicking on the title of a news message will bring you to a separate page allowing you to comment, share or rate the message. Twitter messages will also be visible here.
Hello all!
A new update has been released for our server, LVP 28.2, containing loads of fixes and small features:
-
37f5f85
: Allow players to set their skin using /my skin [Id]. A list of skin Ids can be found
here
.
-
0e6b7c3
: Fix random exploding SprayTag vehicles when spawned.
-
f93b56f
: Fix a race-bug where a race would end prematurely.
-
54f0af3
: Fix a ship-bug where players on the ship during killtime would have godmode.
-
52d45f0
: Place Peter's vehicle back at the usual spot.
-
0390a55
: Updated streamer plugin to
v2.8.1
.
- Disabling of /taxi and /kill in the VIP room.
- Various cleanups regarding the LVP10 anniversary code (/lvp10 --> /lvp).
- Various feature rewrites to JavaScript by
Xanland
.
- Countless commits by
Russell
concerning the JavaScript part of the gamemode (TextLabelManager, JS natives for Pawn, ObjectManager, ScopedEntities, MinigameManager).
- A great amount of commits by
George
concerning the LVP website.
On behalf of everyone at Las Venturas Playground,
cake
Server IP:
play.sa-mp.nl:7777
Twitter:
https://twitter.com/lvplayground
Facebook:
https://www.facebook.com/lvplayground/
Instructions on joining our server can be found
here
Hello!
I'm sure you all had a great weekend, celebrating LVP's 10th birthday and winning prizes! While the biggest prizes have already been won, there are still people we found deserved another award. These people contributed a great deal to Las Venturas Playground over the past 5 or more years and we decided to distinguish these people with an Appreciation Award!
On behalf of the
founders and co-owners of Las Venturas Playground
I am delighted to award the following people with the prestigious Appreciation Award because of their contributions in the past 5 years: 
Management members:
Bakura
estroe
Fireburn
Harry
Joe
Lithirm
Luce
Rien
slein
tBKwtWS
Administrators:
Currode
Cyrix404
Darkfire
DoctorG
Gibbs
Matrix
MrElmo
Nemesis
Overdosed
Peru

A lot of the above mentioned people came to visit especially for LVP's 10th birthday after years of absence from Las Venturas Playground! We hope they find the time to hang out from time to time in the future as well!
On behalf of the founders and co-owners of Las Venturas Playground,
MrBondt
More than 980 people joined the server last weekend to celebrate the tenth birthday of Las Venturas Playground. It was an absolute blast: 2,659 minigames were played, 9,628 people got killed and 2,623 people died of natural causes.
These numbers are astonishing to me, but they are absolutely trivial compared to all the activity I have seen in the past ten years. LVP has 118,827 registered players, 65 volunteers who help to run the server and 413 VIPs. 113 people spent more than a thousand hours on the server. Let that sink in for a little bit: a thousand hours. Incredible!
In the same period of time, 6,155 commits were made by 34 authors improving the gamemode, website, infrastructure and forums. Talking about the forums, almost half a million posts were contributed by all of you, a staggering number, and let's not forget about
the tree
planted in LVP's honour either.
More than five hundred donations were received since LVP started accepting them in 2007- the server was sponsored until that point. After some financial hardship at first, your donations have led the way for the community to be financially healthy, own its own infrastructure and give back to the volunteers and the community through gifts and competitions. Thank you so much.
I'm incredibly proud of what all of you have enabled Las Venturas Playground to become, and wish I could have maintained my activity as the years passed. It's impossible for me to express my gratitude- keep it up the fantastic job!
Finally, It's my privilege to share that
MrBondt
and
Russell
have joined
Sander
and
Badeend
as co-owners of the community. You're in the very capable hands of these fine gentlemen, so let's finish with some of their personal words on the past ten years.
Badeend
: Soon after Peter had started a SA-MP server Sander managed to drag me into all of this. I don't really remember how that happened, but I guess it did. It was still a Dutch server with mainly Dutch players from the Gathering of Tweakers community, but soon it started growing and going international. After a while Peter promoted me to administrator.
I have done many different things in those 10 years, from development of the gamemode to creating some logos, building 'Boteend' and tools to help keep an eye on the server and its crew. Later I became less active ingame, but have always been around on IRC. Lately I've been picking up the game again and having great fun ingame from time to time. And in the meantime trying to keep a global eye on LVP's daily activities, server, crew and developments.
Sander
: When I started to play I was one of the first group of daily players on the server ".Peter's server", later called "GoT Server" and finally we became known as Las Venturas Playground.
With the growing number of players, crew was needed to guide everything and everybody. Too bad for some of you, I was one of the lucky ones.
Not long after my promotion to admin I became management. Main task was general day to day management, keeping peace between crew and players, keeping the server running, restarting, etc.
When we started with donations for VIP status, I took the task of Donation Manager on me.
The last few years I'm not very active in-game or LVP-community-related, but I'm still active managing the server, services and our financials.
MrBondt
: I joined Las Venturas Playground soon after it changed its course from a Dutch server to an international SA-MP server. I started, like most of the crew, as a normal player. I really liked cruising around San Andreas while chatting with people. Later my attention shifted to IRC, where the Nuwani bots were intriguing me and I developed my own bots to interact with them and the players ingame. Eventually, I was promoted to mod (we still had them back then) and later administrator. I kept developing my bots which got me promoted to Management, where I took up the maintenance of the Nuwani bots. Later this expanded to the website and servers as well, giving me the official position of Technical Officer. Players and VIPs might not know me too well, as I do most of my work in the background. Exactly the way I like it ;)
Russell
: So far my contributions have focused on writing code for our gamemode and services, but since last weekend I'll be an advisor for the staff management and hope to broaden my involvement further. We've got great players, a great staff and a large community backed by good technology, and I'm humbled to have been invited to make it even better!
Thanks, and on to the next ten years!
Peter, founder of Las Venturas Playground
Badeend and Sander, founders and co-owners of Las Venturas Playground
MrBondt and Russell, co-owners of Las Venturas Playground
And once again, congratulations

Lash

! 

- Our unique DJ, trustful player, absolute event winner, VIP and from today, newest 

crew member

!

With all your activities and contributions you've made for this community, you well deserved it !

Hopefully you will stay many more hours with us and help us keep this awesome server rolling :)

pce!

I would personally like to thank everyone for organising and taking a part in LVP's events, I enjoyed spending my time this weekend with all of you guys!
It is my pleasure after this very successful 10th anniversary celebration to announce the winners of the contests that were held throughout the day.
The grand prize of an NVIDIA GTX 970 graphics card will go to
Lash
, having earned 7274 points, with 1,405 minigames played and 249 kills.
The second place prize will be awarded to the following five players in the contest. This prize will include their choice of a product up to 40 Euros in cost from cdkeys.com, as well as VIP ingame if they do not already have it. These are clearly some of Las Venturas Playground's most valuable players, and the VIP status update is deserved if not already held. Winners will be contacted via forum PM within the coming days to arrange for their prizes to be delivered.
These players are:

[JOKEr]Jibin, with 6307 points from 1240 minigames, and 107 kills.
PacoBeanZ[Dx], with 5874 points from 1133 minigames, and 209 kills.
ThunderEmperor, with 5204 points from 1005 minigames and 179 kills.
TheDestroyer.tDR, with 3147 points from 628 minigames and 7 kills.
NightFury, with 3021 points from 576 minigames, and 141 kills.

In addition to these top 6 players, various other prizes were awarded throughout the day. As a result of random contests,
[L]OLLIPOP
 and
ChocoGirl
 have been given VIP on the server, and
Lash
was also given a personal property due to his winning of a VIP contest, while already being a VIP of the community. I'd also like to give a special shout-out to
Sophia
, who has been recording this weekend's events to capture the festivities for all to remember!
Thank you all for your participation, and thank you for making Las Venturas Playground the community that it is today.
On behalf of the Las Venturas Playground Management,
Joe
Good Afternoon,
It gives me great pleasure to announce that
Joe
 has been appointed as Las Venturas Playground's Crew Manager! I have been filling this role since December 2015, however I wish to place additional focus on other areas of our community, such as administration of our forum & website. Joe is keen to build upon the existing strength of our crew to identify and resolve weaknesses to further improve the experience that we are able to offer both players and crew members alike. He will also be the primary contact for any complaints (or praise) that you may wish to discuss about any of our crew members.
Please join me in congratulating Joe with his new position!
- The Las Venturas Playground management and crew.
Hello everyone,
It's almost time to start a weekend of fun here at Las Venturas Playground and being that there are actual prizes to be won, there will have to be some rules that everyone must follow in order to be eligible for any prizes they may win.
How to Win:
Prize giveaways are based on the amount of participation in events and the amount of deaths caused by each player on the server this weekend. There may be other special point earning competitions that fall outside of this structure, as decided by LVP Management. This will be tracked per account, so be sure that you are registered if you want a chance to win! Points for each player will be added up and the player with the most points will be awarded the grand prize. The second, third, and fourth highest point earning players will be awarded the second place prize.

Participation in an event is equal to 5 points. 
Killing any player is equal to 1 point.

These points will be tallied beginning at
8PM GMT+2 (Dutch Time) on Friday, the 20th of May
 and continue being tallied until
Midnight on Sunday, the 22nd of May, GMT+2
.
Prizes:Grand Prize:
 NVIDIA GeForce GTX 970 graphics card (1 winner)
Second Place:
 Game of Your Choice at 
cdkeys.com
 (up to 40 euros) (3 winners)
There will also be special VIP events held through out the weekend that offer smaller prizes. Winners of the VIP events are still eligible to be a winner of the first place or second place prizes.
If a winner so wishes, prizes awarded may also be substituted for a charitable donation to a charity of their choosing.
Rules:
While we do plan to be more lenient this weekend, there are actual prizes at stake and we want everyone to have a fair chance to win. By participating in any events, you agree to adhere to the rules. LVP's normal server 
rules
 can be found 
here
 and still apply. Here's a little more clarification specific to your eligibility to win prizes for your participation this weekend.

Any player caught using any sort of software that enhances their gameplay in a way that gives them an unfair advantage in any way will be disqualified and have any previous points revoked as well as the ability to gain future points.
Any player that is a major annoyance will be given warning, players having multiple offenses will be removed from the server and potentially disqualified at the discretion of the Las Venturas Playground Staff.
Not having fun will result in a multiple life ban!

Las Venturas Playground Staff reserves the right to remove any player and disqualify any player as they see fit for bad behavior that may or may not be listed above. Every contest has to have some ground rules. 
We will of course be fair with everyone. After all, this is a celebration of LVP and its players!
Thank You,
The Staff at Las Venturas Playground
Hello!
On
Sunday the 22nd of May
, it will have been exactly
TEN YEARS
since Badeend, Sander and Peter founded Las Venturas Playground. This is a huge milestone for any community - let alone a game server! Over the course of the past 10 years, we've racked up a whopping
118,827
registered players from
200 countries
and all
7 continents
, with a total of
1,709,526 hours
played on Las Venturas Playground. During that time,
9,859,676 people
have been murdered in San Andreas, and
7,994,073 people
have died by fault of their own via suicide, accidental death, or other unknown causes. Out of
339,165 notes, kicks & bans
, Peter was first in line to kick Badeend with the reason "stfu". The very first ban happened the following day; Stef was banned automatically for the reason "Used fake-kill with a Minigun", hopefully by testing our anti-cheat system!
As exciting as these statistics are, the real reason for this announcement is to notify you that we'll be pulling out all the stops to create a fun-filled weekend to engage with both old and new faces to celebrate this impressive milestone!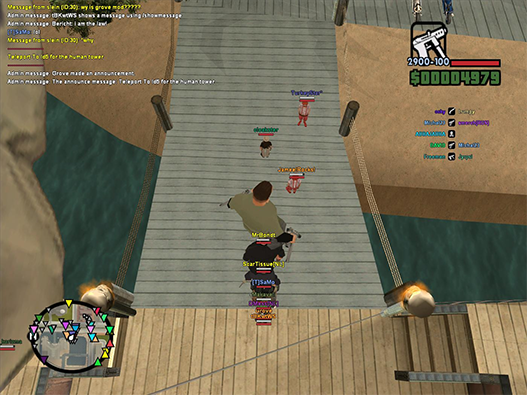 When is this happening?
There will be exciting events going on throughout the weekend, starting on Friday, the 20th of May 2016 at 8PM GMT+2.
The main event with smaller prizes, giveaways, and special crew led events begins:
14:00 GMT +2 (Dutch time) Sunday the 22nd of May 2016, and ends at Midnight on the same day.
Who's going to be attending?
Many current and former crew members have confirmed their attendance; outside of that, we don't know - this announcement is being sent out a week in advance of the event on all of our social media platforms along with our website & forum in order to maximize the number of attendees.
Bring along any past players you have kept in touch with- this is sure to be a memorable weekend in LVP history!

Can I come?
Yes, and we hope that you do! As long as you have a computer, working internet connection & GTA:SA(MP) installed, you're invited to join! Details on doing so can be found
here
.
Will there be anything different?
Yes! We plan on hosting a number of events - Cruises, Terrorist Chases, Hide and Seek Games, Various Races, Haystack Competitions, Casino Robberies, Rivershell Wars, Capture the Briefcase and more! There will be various prizes awarded to the winners of various competitions that will be hosted on this day. These prizes include an
NVIDIA GeForce GTX 970 graphics card
, the ability to choose a PC game of your choice, VIP status, and personalized properties on the server.  We'll also be more lenient than usual - offering jetpacks, godmode, access to normally restricted vehicles (i.e. Rhino, Hydra, Hunter) and other special privileges upon request - anything to enhance your visit.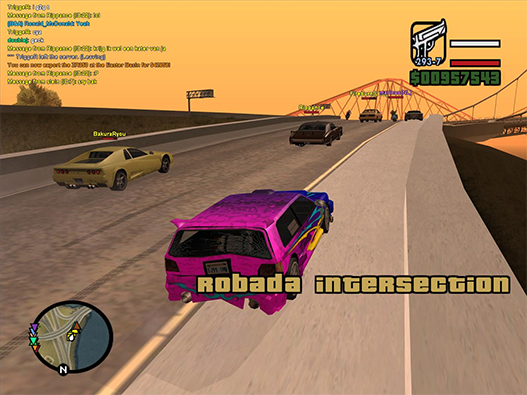 We look forward to your attendance at this grand milestone!
Thank you all for continuing to make this community great!
- The Las Venturas Playground management and crew.
Server IP:
play.sa-mp.nl:7777
Website:
https://sa-mp.nl
Twitter:
https://twitter.com/lvplayground
Facebook:
https://www.facebook.com/lvplayground/
Howdy,
An update was pushed to the server! The changes can be seen below. The headline of this release is the return of the 
R
ace System
 - give it a go (/race), let us know what you think! Please note that in order to provide a somewhat comprehensive changelog, some of the more back-end changes are not shown below, however they are available on our
GitHub commits page.
 If you notice any issues, please do let us know by replying here or
logging a case on Github
! 
-
051e403
: Remove tax for administrators & make /nos free for them too
-
d430e71
: Enable online friends to be removed by player Id
-
ee38301
: Remove the old Pawn implementation of gangs
-
96d0de2
: Block illegal vehicle modifications
-
df8aff7
: Delay initialising the export system until the vehicles are loaded
-
c8a8553
: Don't block interior shots for /wwtw and /robbery
-
62724d0
: Remove "/p [id] gang", enable "/gangs "
-
db8a900
: Force a SetSpawnInfo() update when changing skins in-game
-
375b4ec
: Increase the maximum number of FC matches to 30
-
03497ec
: Don't double-send admin messages to gangs
-
2b8b8e9
: /gangs should talk about the right player
-
05293f6
: Maintain a binary network status log
-
16d8a66
: Clean-up spawn weapons, reduce the standard ammunition
-
2ccac09
 | 
cdbe06d
|
4517b82
: Introduce an Economy Manager to better align and organize pricing/costs
-
90806b4
: We find Joe rather attractive, so we've removed some objects to help him shape his own garage
-
c815872
 | 
af93ae9
|
4337647
|
7c525be
|
c8b1ef5
|
1be49e7
|
a1236e1
|
4d478d9
: Re-enable the Race System, various fixes/improvements
-
3099634
: Disable headshots for same-team players
-
c20a673
: Ignore admin messages starting with three exclamation marks
-
1014d66
|
6525234
: Don't clear the chat when changing /worlds or leaving/engaging in minigames
-
717e567
|
a3edac5
: Improve logic behind the collecting of other players' weapons
-
4026c3f
: Reset spawn weapons prior to granting new ones
-
36b05dd
: Don't show PMs to/from IRC for administrators with their message level set to 0
-
8dd158b
: Clean up the Hide and Seek minigame
-
894b5fd
: Add a /hasfix command for administrators
-
2db4df9
: Have a gang chat usage message for admins
-
e74af0b
: Add the /tur command, similar to /inf, /ele, /sul and /nrg, but for Turismo's.
-
2063a5f
: Add a "/show ship" command for administrators
-
80b4405
: Adjust the refresh-rate from 1 to 5 seconds for the statistics in the bottom right hand corner
-
8d6ed18
: Have more sensible updating of the player's team
-
a09717b
: Be more sensible when updating a player's money
-
656a90e
: Fix two silly < vs. <= issues, minor clean-up
-
64a8e8a
: Coalesce money issuing on the ship
-
ba8804c
: Cache the Bag of Cash textdraw display status
-
ed4e03d
: Remove some dead formatting in the Briefcase minigame
-
6d4d10d
: Reset health when a player leaves the ship during killtime
On behalf of everyone at Las Venturas Playground,
George
Server IP:
play.sa-mp.nl:7777
Twitter:
https://twitter.com/lvplayground
Facebook:
https://www.facebook.com/lvplayground/
Instructions on joining our server can be found
here
Howdy,
An update has been pushed to the server! Without a doubt, the headline of this release has to be the brand new
Persistent Gangs
feature - built using JavaScript - the programming language we plan to convert more features to in due course! The best way to try it out is to jump ingame and use the
/gang
command, which will show you the available options. As before, we still have the
/gangs
command, which lists the current gangs with members online. More in-depth documentation for this feature can be found
here
. Below are some screenshots demonstrating some of the features!
This release also contains a few bug fixes.
On behalf of the LVP management, crew and development team,
Granny
Server IP:
play.sa-mp.nl:7777
Twitter:
https://twitter.com/lvplayground
Facebook:
https://www.facebook.com/lvplayground/
Instructions on joining our server can be found
here
I'm proud to announce that
Currode
has been promoted to administrator! We've been temping this guy so often and for so long we thought it'd be time to include him on the team. We're glad to say that our night-shift (IE: when it's dark in Europe) has another hard working asset added to it c:
Everyone give a warm welcome to Currode, he's earned it!
Registering a whopping 2,687 days ago and being a crew member since a long time,
Luce
has become a great asset to the LVP community. With Luce's ideas and insights on how to improve LVP's gamemode and create an even better LVP experience, we believe she can be of great value to LVP's future. It is only logical to add Luce to the LVP Management team to give her the opportunity and space to bring those ideas into practice. So here you have it: congratulations to Luce on officially being a new LVP Management member!
My avatar applies ;)
On behalf of the LVP Management team,
Badeend