LVP 49: Skin hit and lag shot, leaderboards, and less abuse
posted by Russell on Saturday, June the 20th at 1:52 AM
Hi all -
This week we're happy to bring you
Las Venturas Playground 49
!
The first big change is that Las Venturas Playground now supports
both skin hit and lag shot
. Skin hit will continue to be the default on our server going forward, but we'll start to support lag shot in deathmatch zones and other fighting minigames. This release introduces two DM zones in which the old school players among you can enjoy
the good old days
.
Furthermore, we now have
live leaderboards showing which players are ruling Las Venturas Playground
. Did you know that
Deer_Hunter
fights with
59.18% accuracy
? That
Ricky92
inflicts 5.14k damage an hour
, or that the
Anonymous Game
gang
is about to take over pole position
from
Cheap People
despite having less than a third of the members? Now you do!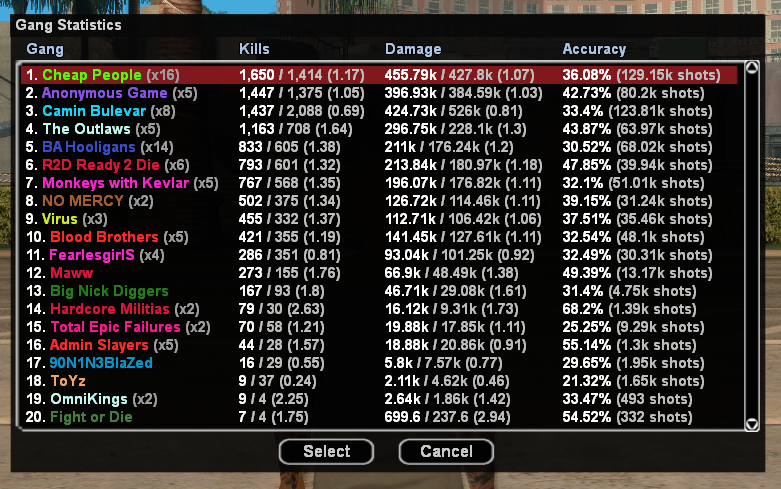 Other changes in this release include:

FEATURE: "/deathmatch 6", "/deathmatch 7" and "/deathmatch 9" have been added as Lag Shot zones.
FEATURE: "/deathmatch 8" and "/deathmatch 9" are new areas where you can fight in teams!
FEATURE: We now have accuracy, damage, gangs and kill leaderboards on the server!
FEATURE: Using "/q" or "/kill" while fighting will now attribute the kill to your opponent.
FEATURE: Spawn weapon management has been moved over to JavaScript. Players can now buy weapons using /my spawnweapons [weaponId] [multiplier].
FEATURE: The "/guide" command has been added for temporary administrators.
IMPROVEMENT: Using vehicle keys to flip through colours now prefers more vibrant colours.
IMPROVEMENT: The animation commands are now subject to anti-abuse regulations.
IMPROVEMENT: We now have a fancy "/animations" dialog, with the ability to click through.
IMPROVEMENT: Thousands of lines of code have been modernized, much more to follow.
IMPROVEMENT: A fully featured string formatting library has been implemented with "format()".
IMPROVEMENT: Gunther will now announce a helpful message about the leaderboards.
FIX: Administrators can now change the "muted" field of player profiles through Nuwani.
FIX: Leaving "/deathmatch" will now show the right statistics message.
FIX: Undercover players won't show up for temporary administrators in "/admins" anymore.
FIX: Houses cannot be created outside of SA-MP's pickup range (-4096, 4096) anymore.
FIX: Finding a player's aliases will now be done in a case insensitive manner.
FIX: House purchase announcements shown by Nuwani now show up properly again.
FIX: The "/ircpm" command will now be listed as one of the VIP benefits.
FIX: Administrators will now receive a notification when a player's jail time has expired.
MISC: Management members can now change a player's lag compensation mode with "/lagcompmode".
MISC: We now have the ability to control gravity individually for each player.

This release includes contributions from
Russell
,
Holsje
,
Specifer
and
Xilent
. Many thanks to
Freakins
,
Lithirm
,
Beaner
and
Sophia
for filing issues.
Finally, we have a Discord rule update: all communication in public channel must adhere to
our Community Guidelines
. A new "#cave" channel has been created, marked as NSFW, for those of you who want to banter a bit more, but any form of discrimination, racism and serious profanity is still prohibited.
Thanks,
Russell