TeamSpeak3 Help
Like many gameservers, we have our own TeamSpeak3 server.

If you are known with TeamSpeak3, use the following server address: ts.sa-mp.nl:9987 to join us. TeamSpeak3 is free VoIP software that allows you to talk with other LVP players!
What is TeamSpeak?
TeamSpeak is a quality, scalable application which enables people to speak with one another over the Internet. TeamSpeak consists of both client and server software. The server acts as a host to multiple client connections, capable of handling literally thousands of simultaneous users. This results in an Internet based teleconferencing solution that works in a variety of applications such as team mates speaking with one another while playing their favorite online game, small businesses cutting costs on long distance charges, or for personal communication with friends and family.
© GoTeamSpeak.com
Installation
If you want to join us at TeamSpeak you need to download the TeamSpeak3 Client first. Follow the easy installation steps. After the installation, start TeamSpeak and follow the wizard.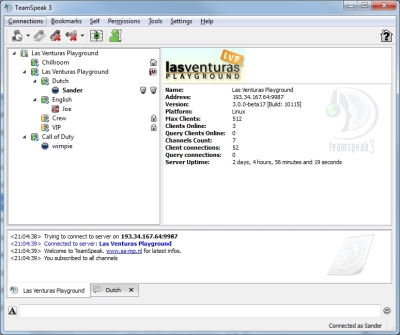 Configuration
First, change/check some settings in TeamSpeak. Go to the menu Settings > Options. In the Options pane you can adjust many settings. Two options are important: Input (Capture) and output (Playback).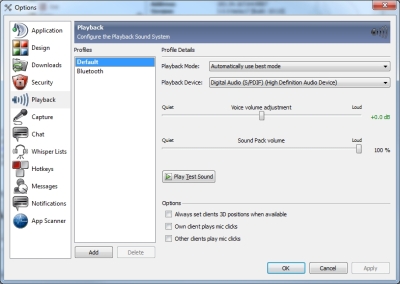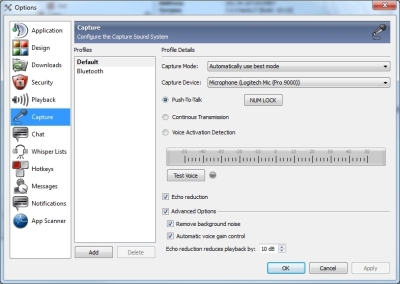 Select the correct input and output device. They can be found at Playback and Capture In most cases the default settings are ok. If you are using an USB headset you have to select it for Capture Device as well for the Playback Device. If you are done with this options, go to the next step.
Using Push to talk is recommended. Otherwise it is possible that all your sound is transmitted to the other users, even if you don't want this. In the Capture options, selecht Push to Talk and click on the button at the right side to bind a talk-key. If you don't select this option and use your speakers instead of headphones, your output sound will also be used as your input sound (Going from your speakers into your microphone), which results in very bad echoing. This is very annoying and not useful at all. It is suggested to only use Voice Activation when you are using a headset.
To test your playback settings, push the Play Test Sound button at the Playback options. Press the button again to stop the test.
To test your capture settings, push the Test Voice button at the Capture options. Optional you need to press your Push to Talk key and you should be able to hear yourself. Press the button again to stop the test.
Connecting
Go to Bookmarks > Bookmark. Click on Add Bookmark. Give the bookmark a Label, for example: LVP, enter the server address: ts.sa-mp.nl and the port 9987. If you want to connect to LVP's TeamSpeak server on startup, click on the More button, and check: Connect on Startup.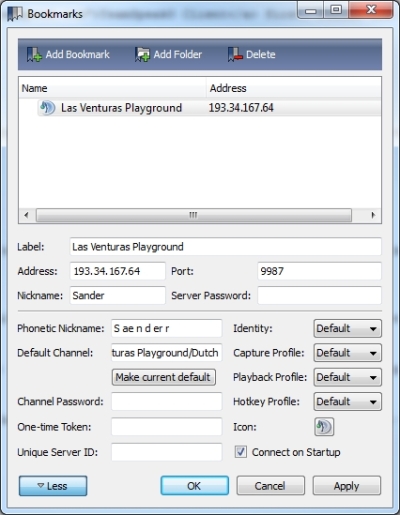 If you want to auto-join a channel, fill in the field Default Channel. The default channel for LVP is: Las Venturas Playground. The subchannels are:
So if you want to auto-join the English channel, use: Las Venturas Playground/English. Please remember: each channel has it's own language, do not talk other languages in these channels.
If you are done, click on Apply. Click on Bookmarks and select the newly created server. You will now connect to the Las Venturas Playground TeamSpeak3 server.
TeamSpeak server rules
We have a few rules on our TeamSpeak server. We don't tolerate players to mess around in any channel. Not following these rules will result in a ban.
Do not spam
Music is not allowed
Other languages are not allowed, except the channel language
No screaming or any other high volume noise
Enjoy our TeamSpeak server!